Discount Vinyl and Linoleum
---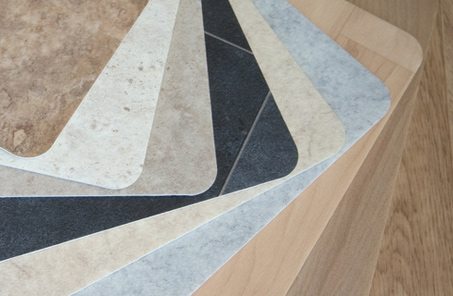 Onehunga Carpets & Rugs stock a varied range of discounted vinyl and linoleum – from wood grains, to tile and slate looks, checked patterns, plain colours and subtle fleck styles.
We're able to sell cheap vinyl and cheap linoleum because we source:
Short ends
End of lines
Redundant lines
Bulk buying
Our selection includes 2metre and 3metre wide vinyl in commercial and residential grades.
We purchase from NZ suppliers Robert Malcom, NewFloor, James Howstead and Irvines. Visit us in our Onehunga showroom to see our floor stock, or browse through our wide range of sample books to order.
What's the Difference between Vinyl & Linoleum?
Vinyl flooring is a synthetic product, made of a combination of several chemicals, including ethylene and chlorine. Vinyl flooring contains – of course – vinyl, as well as several additives – for example, felt, fiberglass and dyes. Vinyl flooring is extremely low maintenance, and is considered one of the easiest types of flooring to clean. Sweeping and vacuuming, as well as mopping and wiping the floor will keep it clean – without worrying about it being affected by moisture, mould and mildew. One of the most distinguishing features of vinyl when compared to linoleum is that vinyl flooring is completely waterproof. If you're trying to decide between vinyl and linoleum flooring for a room in your home, you should consider how much moisture that area receives. For example, vinyl would probably be a better choice than linoleum for a bathroom, so you don't have to worry about sealing and waxing. Patterns and colours are printed on the surface of vinyl flooring. This allows for greater design freedom, but comes with a caveat – since the design is only stamped, there's a thinner "wear layer" than with linoleum flooring. When the wear layer wears through, the design will be gone as well. Vinyl flooring typically lasts anywhere from 10 to 20 years.
Linoleum flooring is made solely from raw, all-natural and biodegradable materials – including linseed oil, wood and cork flours and tree resin. For this reason, linoleum may be preferable to consumers who are environmentally conscious. Linoleum flooring requires slightly more maintenance than vinyl floor, but cleaning is still relatively easy with sweeping or vacuuming periodically. If you're using detergent and water to clean something that vacuuming won't pick up, look for neutral detergents, since linoleum can be sensitive to cleaners. Acrylic coating should be applied annually, and some varieties of linoleum flooring require occasional waxing. Linoleum floor is stain resistant, fire retardant, antimicrobial, hypoallergenic and antistatic. While linoleum flooring is water resistant, it is not waterproof – meaning that it can still be negatively affected by excessive moisture if it's not sealed periodically. The colours used in the design of linoleum go all the way through the material – meaning there is a longer "wear life" than vinyl, where colours and patterns are only stamped on the top layer of tile. However, many consider linoleum to not have as many design options as vinyl. Linoleum has a life span from 20-40 years; considered more durable than vinyl, with properties similar to ceramic and hardwood.
Contact Us
Vinyl and linoleum is the perfect affordable flooring solution for your kitchen, bathroom, laundry, and showroom or office space. Contact us to discuss your laminate flooring options further, and book your free, no obligation measure and quote.